"Marriage"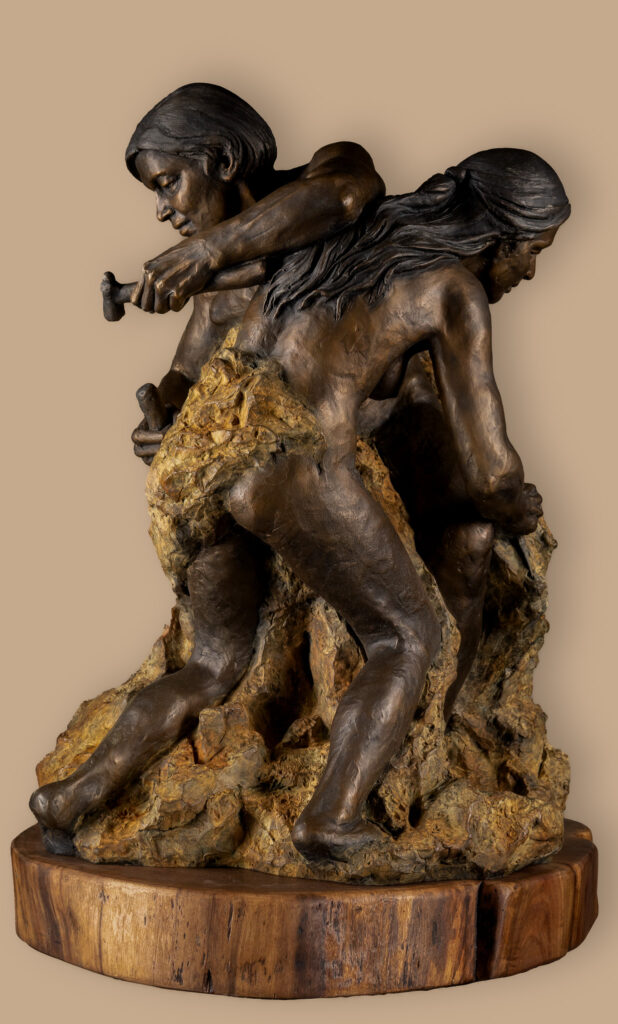 The Story of "Marriage"
(name chosen by Patrons Sandy and Terry Lillie)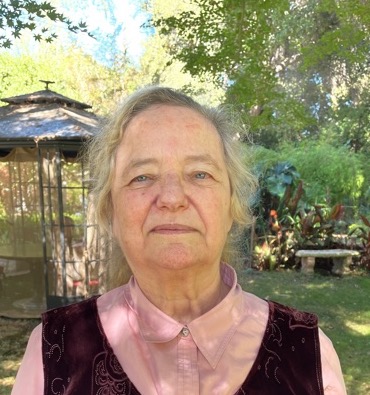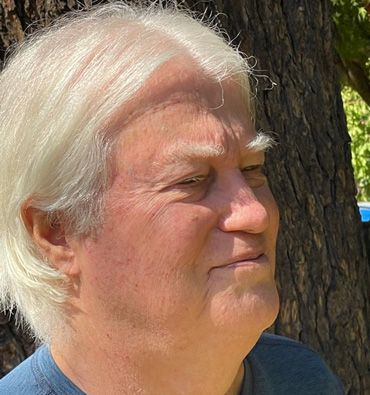 Sandy and Terry Lillie have had a long and loving, and occasionally challenging, relationship and marriage they wanted represented in art by a couple chiseling each other out of stone, releasing from the stone their true being. Sandy referenced Michelangelo: I saw the angel in the marble and carved until I set him free.Years ago Sandy had bought a bronze I had made of a woman discovering she was an angel, and wrote to ask if I would sculpt their vision for them. We had a long conversation on zoom about what they wanted, which gave me insight into the emotional background of this vision.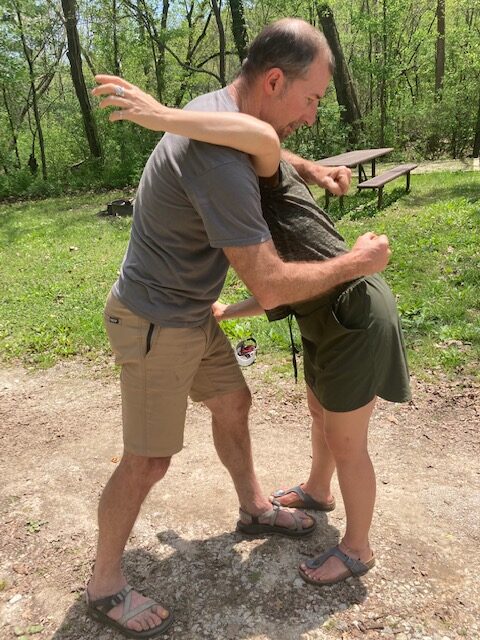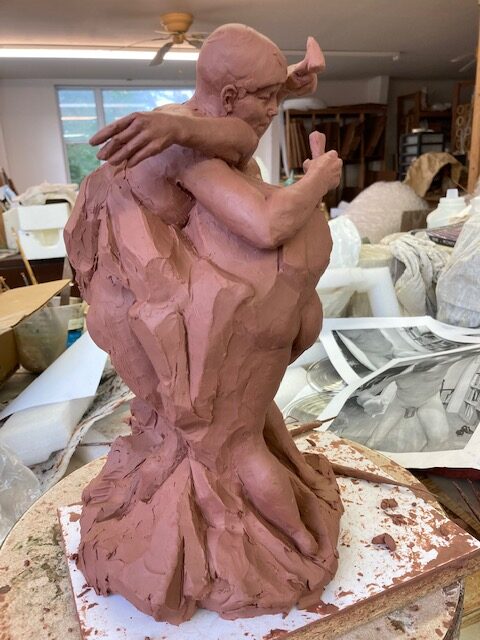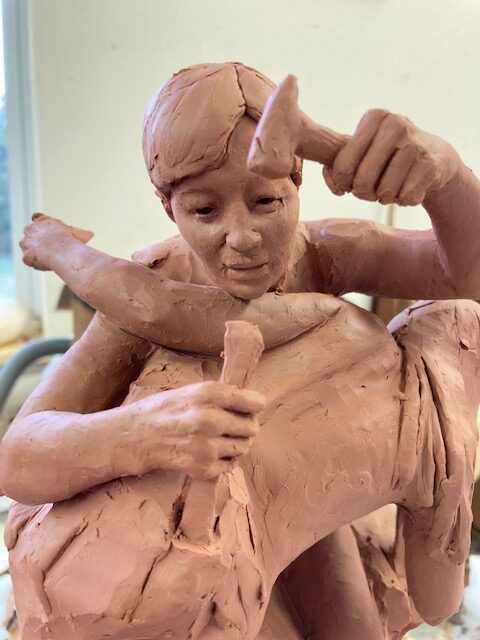 It took almost two years, from the first imaginings, photographing possible poses and then the first maquette (a small model) in Chavant, an oil based clay. For the piece itself, I used Classic clay, which is half wax and half clay and holds a shape well. After months of sculpting one composition, the foundry said it couldn't be cast, so I redesigned it. I spent months on just the faces. Sandy and Terry wanted a similarity in faces, but not an exact portraiture. I tried to make it somewhat exact but the difference in ages of the photos made it difficult. I was after a specific expression of patient engagement. My children, all artists, provided valuable critiques.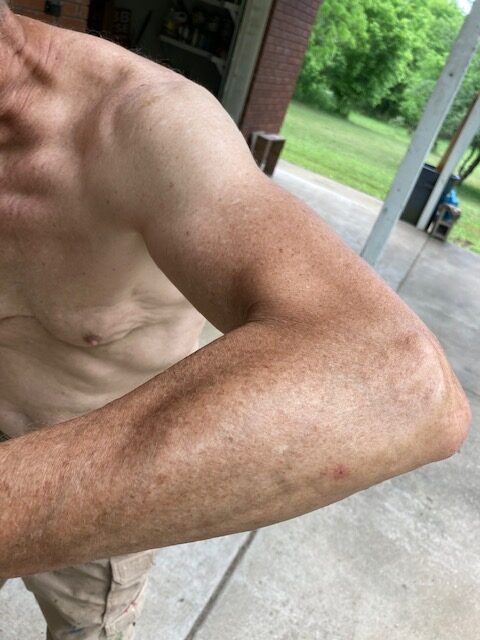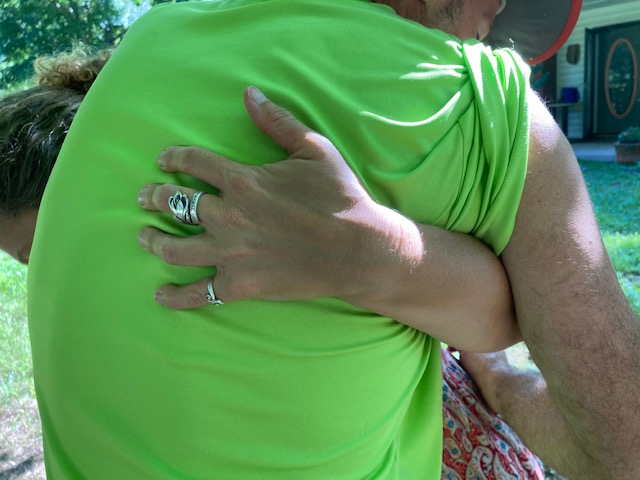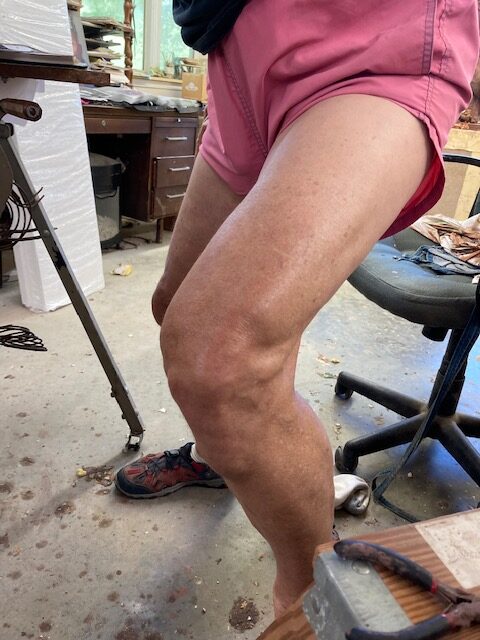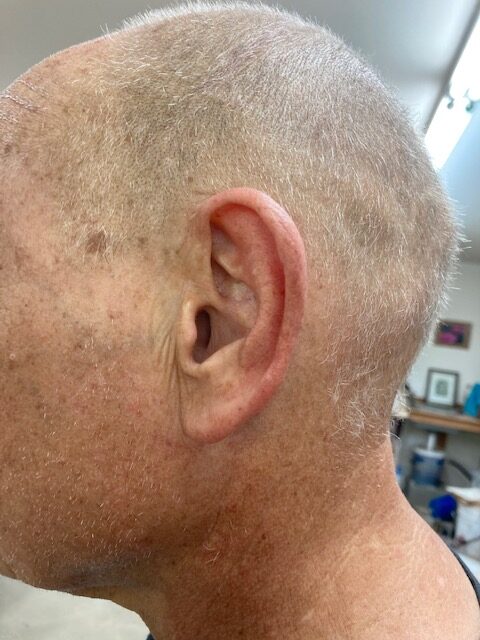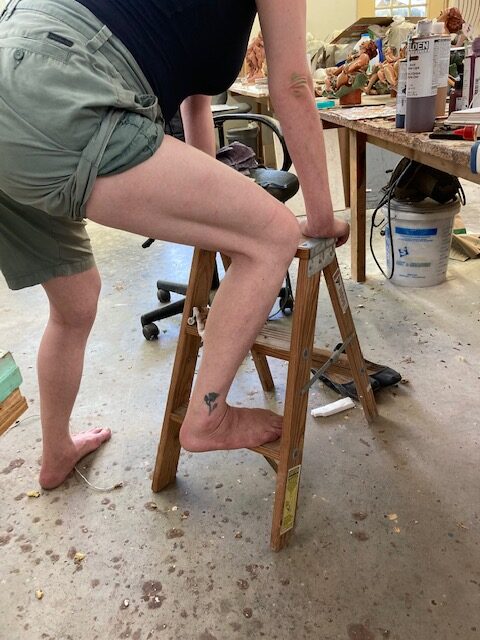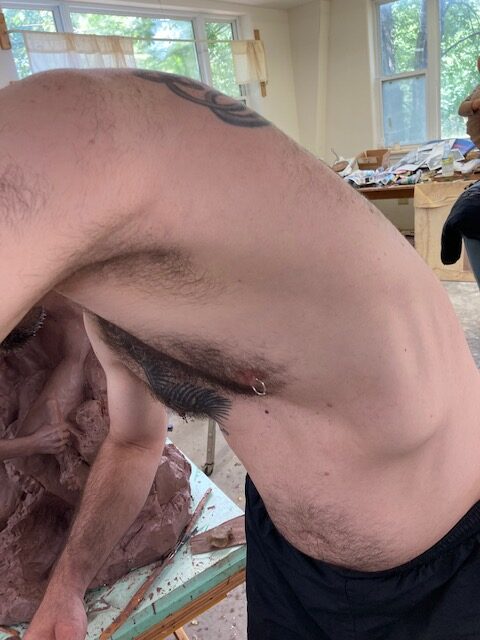 After it was completed, (or rather, after the kids said you can stop) Ben helped my partner Mike and me place it securely in a rented van which we kept as cool as possible to keep the wax from melting in the 100 degree heat to drive to The Crucible in Norman OK. https://www.facebook.com/thecruciblefoundry/. They are on Instagram as @Cruciblearts.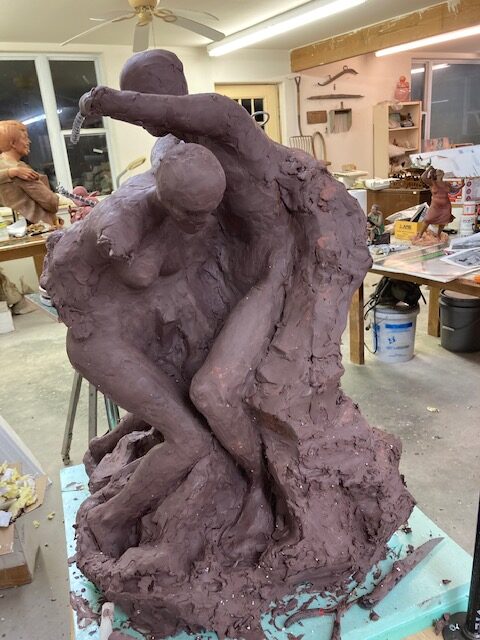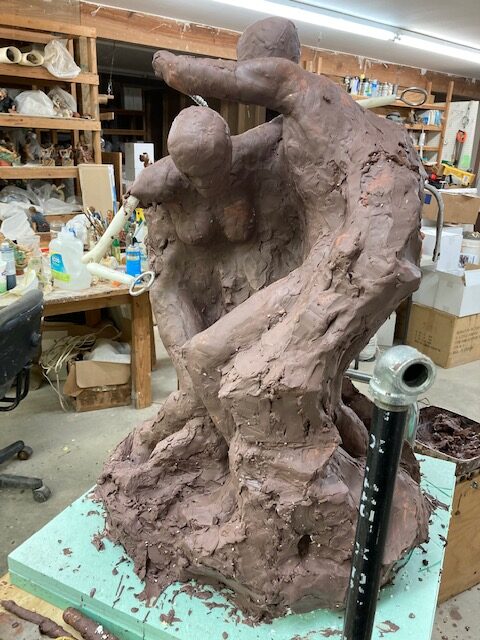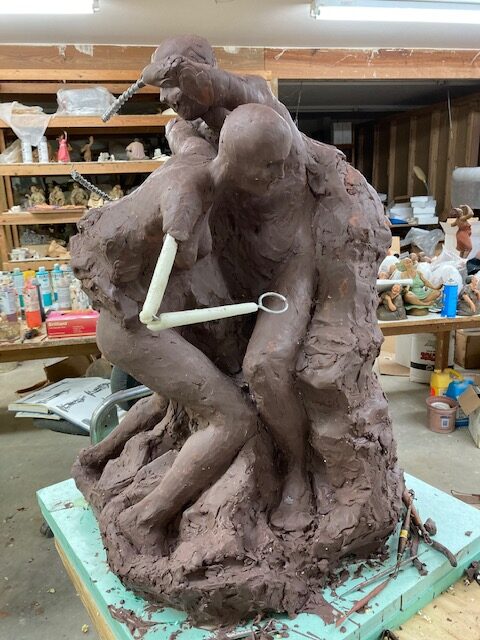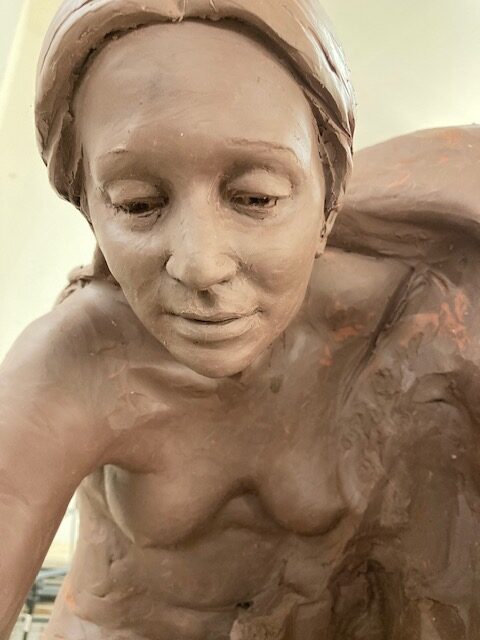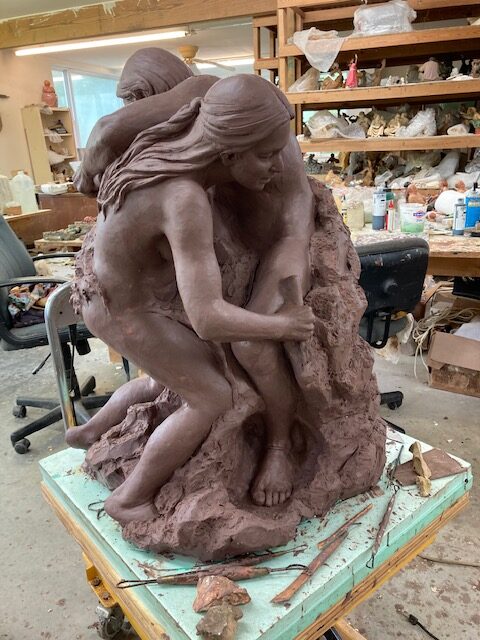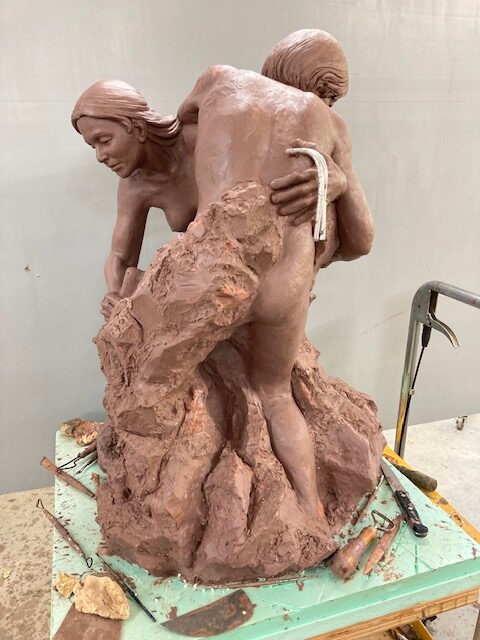 I had already negotiated times and price with Mark Palmerton of the Crucible. Tom Orikasa, the silent extremely skilled wax worker, cut it apart, made a wax and Conor Russell and Aaron Head made the mold. The pouring is quite complex. The photos are of a different pour, but each mold must be poured at a specific temperature to prevent shrinkage. The pour looks like a ritual meditation, as the pourers stand completely still in protective clothing, waiting for the molten bronze to reach the right temperature which takes several minutes. Tod Jenkins led the pour team. Aaron Tiffany and Greg Greenfield welded it back together and did the metal chasing. Henry Jenkins did the divesting, and Scott Adams the patina. I worked with Scott, suggesting the colors I wanted and acceding to his advice, as the colors must be laid on in a certain order. He worked in freezing temperatures outside for the first part, wiping the ice away that formed from washing away the liver of sulfur, the first coat of patina.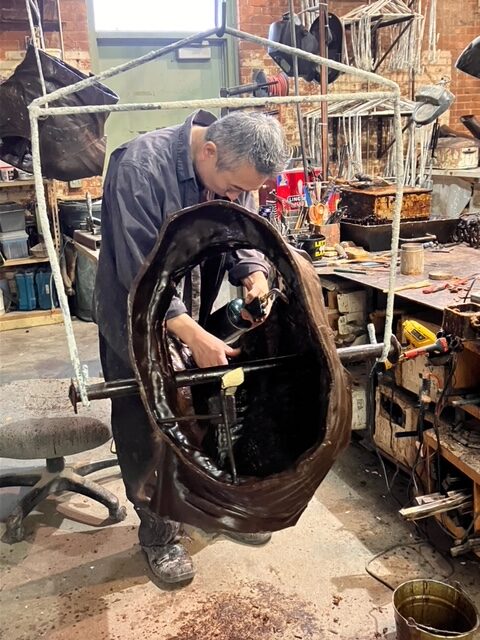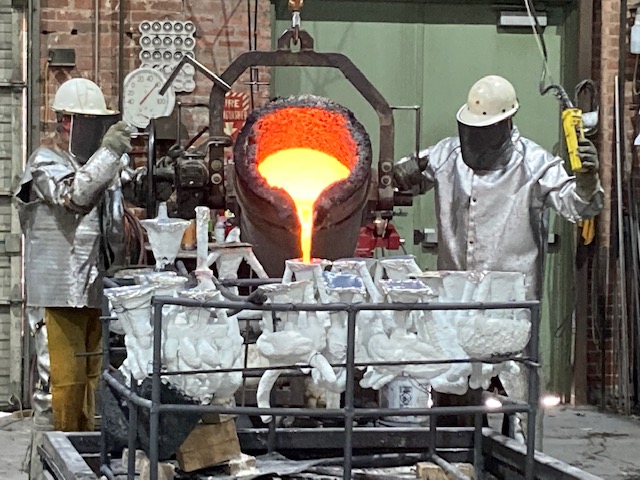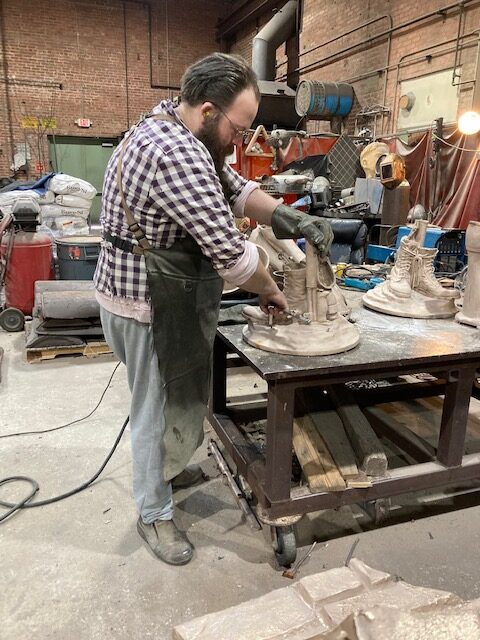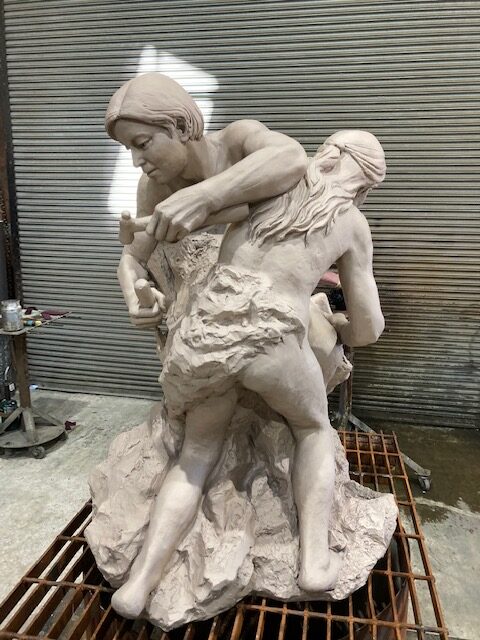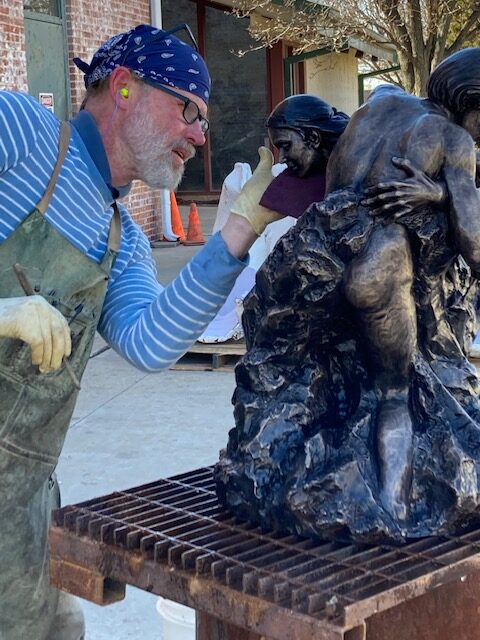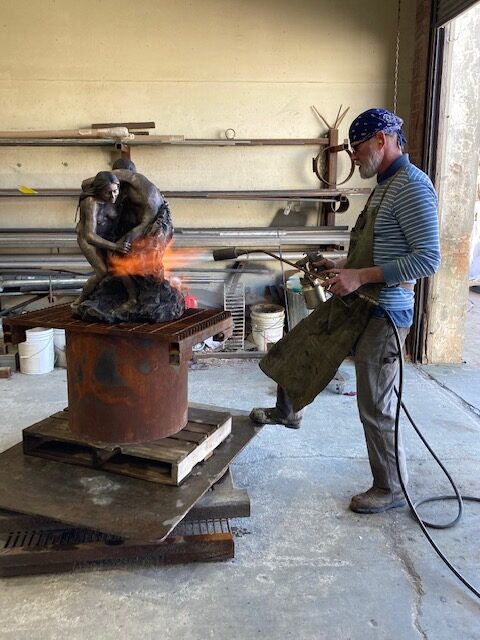 Sandy and Terry wanted the sculpture to turn on a lazy susan. I wanted a solid beautiful wood base for it to rest on. Bayard Blain usually makes fine guitars <Bayardguitars.com>, but was interested in this project. He found an extraordinary piece of walnut that was wavy like the sculpture and just fit the base. Bill Ward designed the stand, hexagonal that echoed an hexagonal theme in the piece, and strong and sturdy enough to support the weight of the sculpture, and embedded a lazy susan in the top. For the bottom he cast a lily to be placed in the middle. He had spoken with Sandy about the meaning of the lily for her and it also provided an aesthetic connection between base and sculpture. It took a great deal of planning, care, skill, and the right tools (a beautiful huge vintage drill press!) to fit it all together, and I am deeply grateful to these two master craftsmen. My son Ben had the artistic and technical expertise to communicate what was needed to Bill and Bayard, and could interpret their technical language to me, as well as helping to provide the muscle power to move this heavy sculpture and stand around.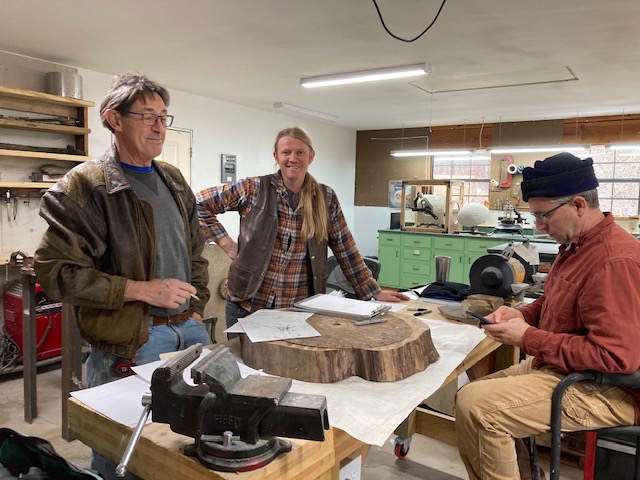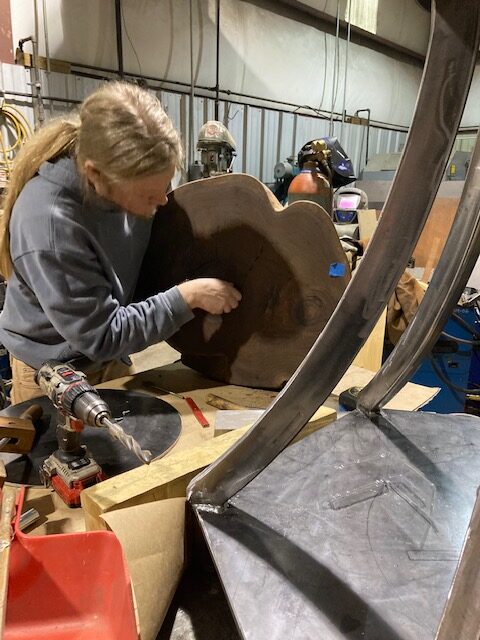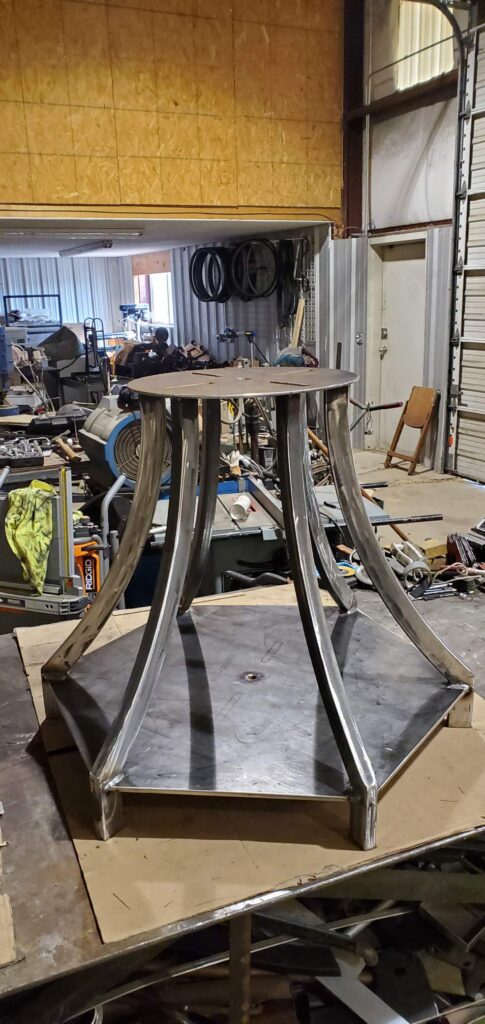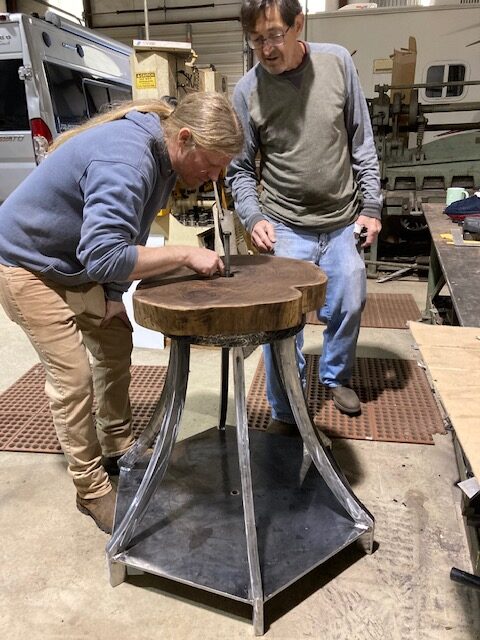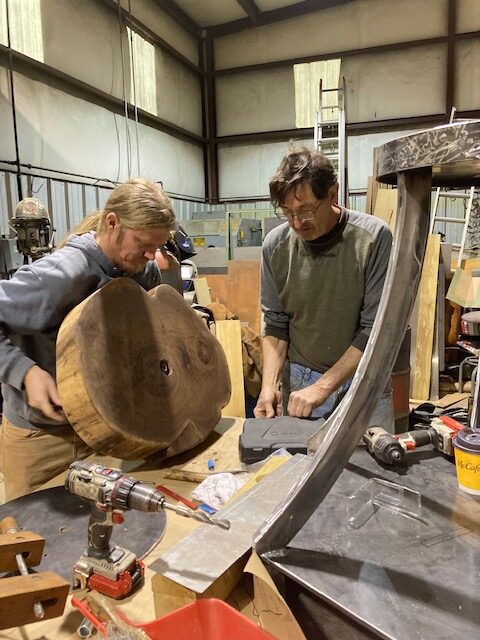 Gustavo Samor, https://instagram.com/brewtifulcaptures?igshid=YmMyMTA2M2Y=, shot the photos with skill and patient, dedicated attention to the light illuminating the piece to best advantage. Since it couldn't easily be moved, weighing 400 pounds, we had to construct a temporary photo studio in my sculpture studio.
Many thanks to Sandy and Terry, ideal patrons who have become friends, the models (Mike Karcis, Nina Buonaiuto and Chuck Maxwell, Mia Buonaiuto and Dan McIntyre and photos), Ben Buonaiuto, the skilled craftsmen at the Crucible, and Bayard Blain and Bill Ward for helping to actualize Sandy and Terry's vision. We will be driving it soon to their home in California.
Sandy wrote about art: I think that art is about waking us up to our experience in this world – inviting us to be aware of what we were not aware of, to appreciate what we were not appreciating, to deepen our understanding and capacity for empathy…probably some other stuff I don't have time to get clear in my mind right now. So of course, what people glean from a piece of art is often very particular to what they bring to it. We experience through the portal of where we currently stand.
I responded: I saw a FB post about Picasso saying that artists were essentially laborers and occasionally art happens. That's how it feels, maybe why I so empathize with laborers. It's a humbling process, in fact can only happen in humility, and somehow is never exactly what I want, only a step on the way there, a way of discovering something new, and aspiring for that moment of breathless wonder.
Sculpture by Shelley Tincher Buonaiuto
Photography by Gustavo Samor