These are not currently available.
The Rosa Parks cookie jar is made of white earthenware and hand-painted with underglazes, fired to cone 04, glazed and fired to cone 05, and then lustered and fired again.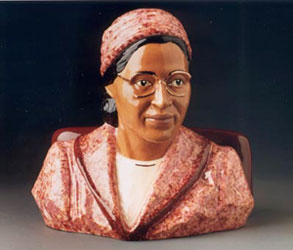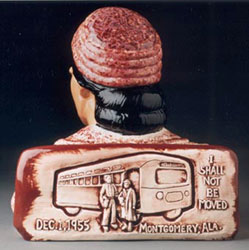 At one time A Little Company had 28 jars in production, including jazz singers, dancer and drummer, Josephine Baker, and many others. Production on these limited editions stopped four years ago when we became involved in the new figurative series.
When we were asked 2 years ago to sculpt and produce the Rosa Parks Jar, we couldn't resist the opportunity. It has been approved by Mrs. Parks and is in a signed edition of 1000 pieces and is available for $500.
There is a relief on the back of the seat depicting Mrs. Parks' arrest with a commemorative date. The jar opens under her hat and is 13 1/2″ H X 13 1/2″W X 9 1/2″ deep, gold luster on her dress and glasses.