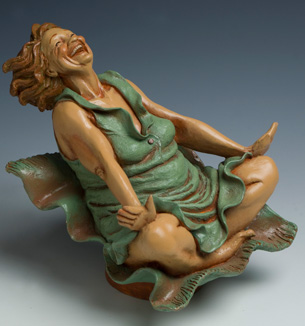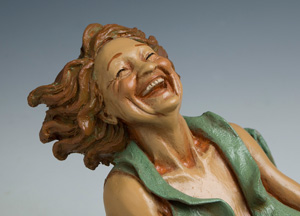 "Small Wild Ride"
8″ h, 7″ w, 7″ d
NEW! Street Party!
We are happy to finally introduce the first pieces of our new series.
It has taken 3 years to get them ready for production, and they should be available by the end of May.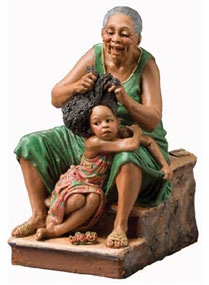 Mae and Malaika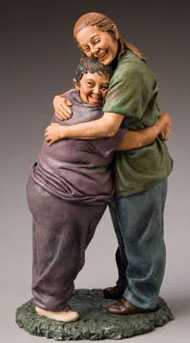 Wendy and Ophelia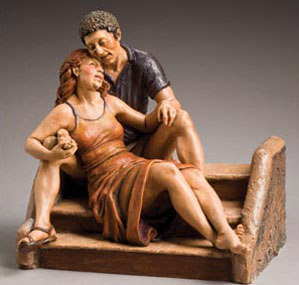 Robert and Rosie
Limited edition # and price yet to be determined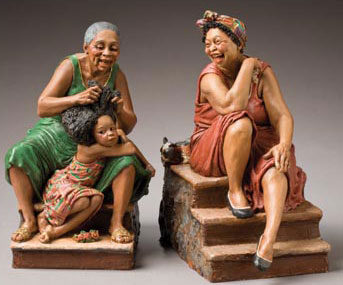 Malaika with Mariah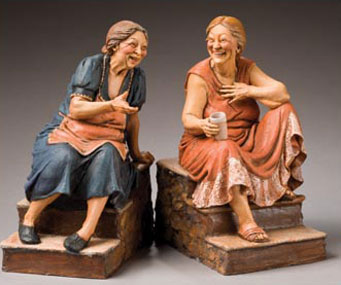 Sophie with Milla
Limited editions of 2500
Mariah is no longer available. These are all people with stories, and we are hoping that our customers will help us decide what the stories are. I know a little about the 5 ladies on the stoops. Mae and Malaika are African American (though I think Mae may be a teacher and Malaika a princess), Mariah is Caribbean (a dancer?), Sophie is French (and possibly Jewish but definitely a great cook) and Milla is Slavic (she loves to laugh and play the balalaika?). The Street Party is a homecoming for Robert. Sophie is catering. I will add dancers and musicians in the next grouping.
I know a bit more about Robert and Rosie. I based Robert on a young Iraq vet I met, who was travelling around and talking about his experience in the war, where he lost a hand, on his day off, while trying to throw a grenade out of the back of a truck. He spoke about his loss with courage and grace. I gave Robert a beautiful girlfriend, who is sealing off his past with love (with her hand over his lost hand) and opening his future (with her hand opening his right fingers). I hope to acknowledge with this sculpture the sacrifices made by our service people, whether we are for or against the war. 1% of the cost of this sculpture will go to a veteran's group of your choice.
Wendy is a friend of mine and a terrific photographer, who gave me a photo of herself with her young friend, Ophelia, a Pueblo Indian with Down's Syndrome. Wendy says Ophelia will like this sculpture of the two of them. 1% of the cost of this sculpture will go to the Special Olympics.
WORKING WOMEN
Each window represents a different profession, Above is THE ARTIST,
in this case a musician. Below from left are THE BAKERS, THE SEAMSTRESS,
THE ARTIST, THE HERBALIST (OR HEALER) and THE CARE PROVIDER .Each is 12″ high by 8″ wide.

These windows can be purchased singly, or in sets of two or more.
The series works well as a finished line of five or below are some suggested sets of two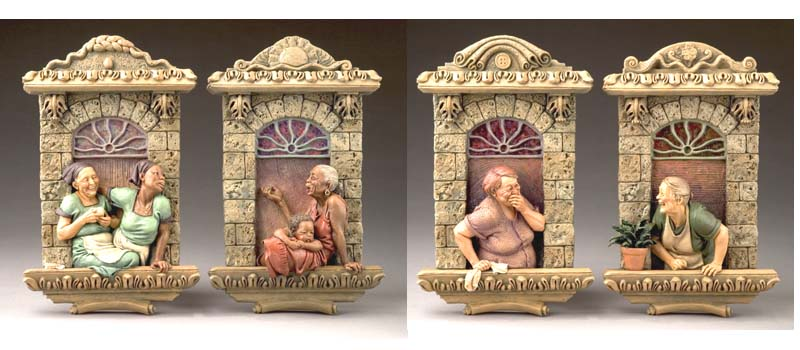 Alternative Energy Series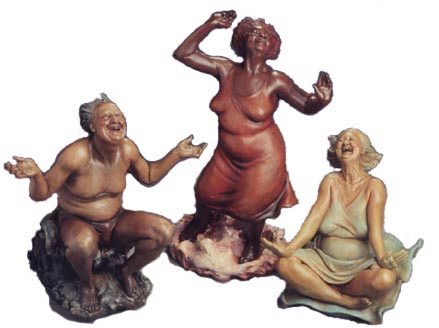 "Water", "Sun", and "Wind"
I started with a much requested "Laughing Nude", but decided to dress her, and seeing she was so exuberant that she needed to be lifted to correspond with her spirits, I put her on a flying carpet. She was an older woman enjoying the ride, but she was also the wind. To accompany her I sculpted the sun or "Light Dance" (my son had said, "she's a heavy woman dancing so lightly") and then the water, fully and hopelessly human in the flow on his way to the ocean, calling this series "Alternative Energies".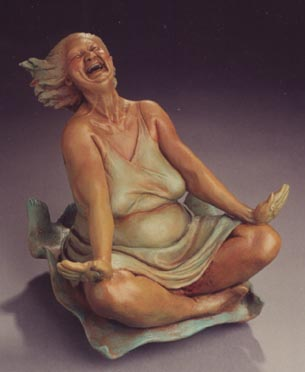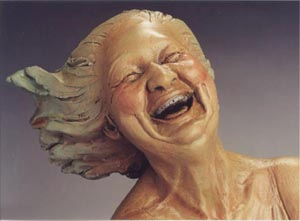 "Wind"
(Wild Ride)
11″ h, 7″ w, 8″ d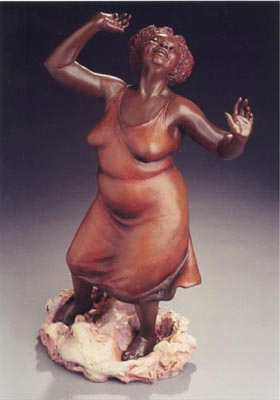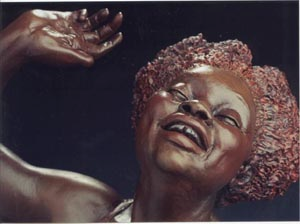 "Sun"
(Light Dance)
17″ h, 10″ w, 6″ d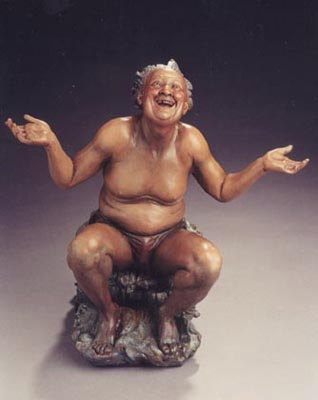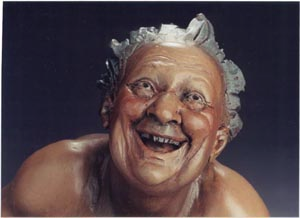 "Water"
(Man on Wave)
13″ h, 13″ w, 9″ d
LOVERS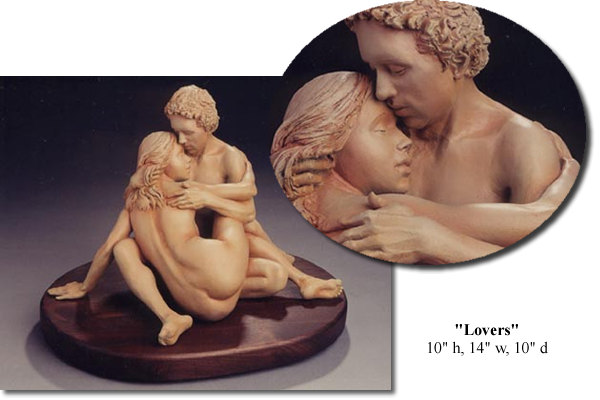 Available in bronze and in resin.
Women
Please note, Nanima is no longer available. Gladys is a good alternative. See below.

| | | | | |
| --- | --- | --- | --- | --- |
| Bunda | Amah | Nanima | Nona | Mudd |
| 7″ h, 5″w, 5 1/2 " d | 7″ h, 5″ w, 6″ d | 6 3/4″ h, 6″ w, 5″ d | 7″ h, 5″ w, 5″ d | 7″h, 5″w, 5″d |
Suggested Combinations
Bunda & Mudd / Bunda & Nanima / Bunda & Amah / Nona & Nanima / Nona & Mudd /
Nona & Amah / Amah & Nanima / Nanima & Mudd /
Men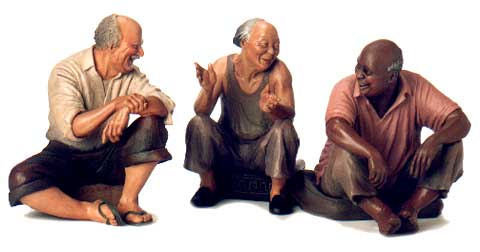 | | | |
| --- | --- | --- |
| Pepe | Lolo | Big Papa |
| 8″ h, 6″ w, 6 1/2″ d | 8″ h, 4″ w, 6″ d | 7 1/2″ h, 6″ w, 7″ d |
Friends and Family

Pepe and Belle
Marcus and Len and Leaky

Len and Leaky are no longer available
Abuela
Suggested Combinations
Abuela & Belle / Abuela, Len, & Leaky / Len & Leaky / Marcus, Len, & Leaky / Pepe & Belle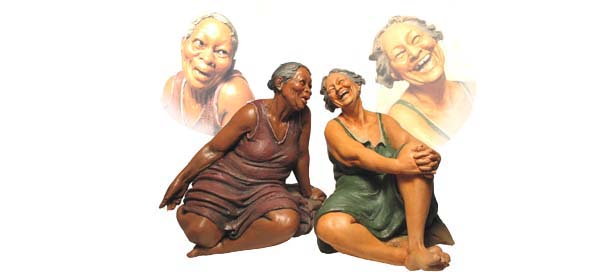 Lucy and Gladys
Gladys and Lucy are the same size as the other pieces above.
Gladys goes especially well with Pepe and Lucy goes well with Big Papa.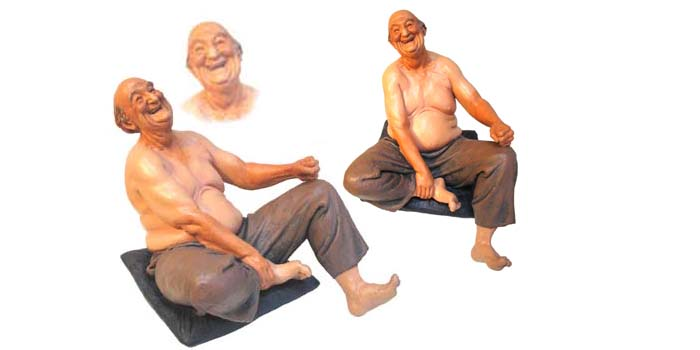 DAVID
David is the newest addition. He does fine just by himself but also works very well with Nona and Abuela.
Look close and you can see his tan lines.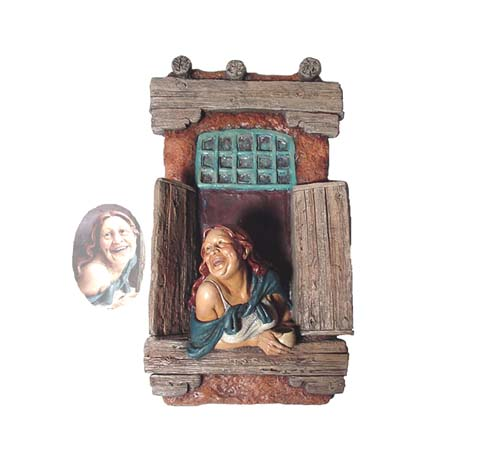 SOUTHWEST BIRDSONG
This is the newest window. I see it as a woman looking out of the window of an adobe here in New Mexico, early in the morning and hearing a western tanager or towhee, but since she's still in her nightgown, I've heard other possible interpretations. Some say she gives the ladies in the other windows something to talk about. This was NOT my intention.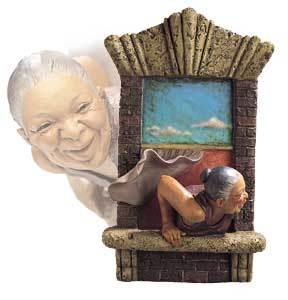 "Blue Sky"
9″H x 5 1/2W x 3″D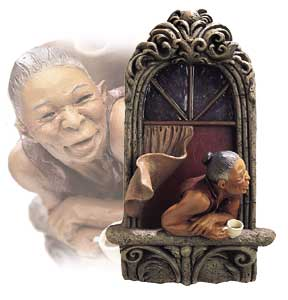 "Coffee Chat"
9″H x 5 1/2W x 3″D