Reliefs Fish unions
Porcelain with glaze
clic//k for larger version
10″ – $400. I started this series of reliefs with this one, working with the sense of the incipient seed of humanity within the fish, and our continuing reliance on this species. Our fate lies with their fate.
11″ – $500 . A continuation of this thesis.
12″ – $600. In this relief, the man and fish share an eye
12″ – $600. Again, the incipience of the human within the fish. We are still one with the fish.
Reliefs Yemanja
Porcelain with glaze
click for larger version
12″ high- $600- Yemanja is a Vodun goddess of the water and motherhood. Here she is giving birth to an eye, which is also the eye of a fish.
13″ – $600 – A more Romanesque version
Reliefs Mrs. Angel
Mrs. Angel was our neighbor for many years and we occasionally visited. She was courteous, intelligent, friendly. In her last years she had severe dementia, and during one visit with a friend, we took a number of photos, which we shared with her, though she no longer recognized herself in them. These reliefs were made from the photos. She had become totally uninhibited and honest, and expressed opinions on the church, sex and my friend's and my comparative beauty (I paled in comparison). She enjoyed our visit though would never remember it. We were the greatest beneficiaries. Porcelain with glaze
click for larger version
Reliefs Couples
A deepening relationship in 3 tiles.
Porcelain with glaze
click for larger version
Reliefs Small
Porcelain with glaze
click for larger version
Bas Reliefs
Porcelain with glaze
click for larger version
Portrait commission of 3 grandchildren for a grandmother.
Jan wanted 4 sculptures of the 3 grandchildren to share with the other grandparents. She sent me photos and I did four different ones, trying different poses. Jan also wanted them painted. I'm showing the painted and unpainted versions. They are about 10 inches high. These sold for $2,000 apiece. Prices for portrait commissions vary, depending on size and style. Call us at 479-445-6567 to discuss what you'd like.
click for larger version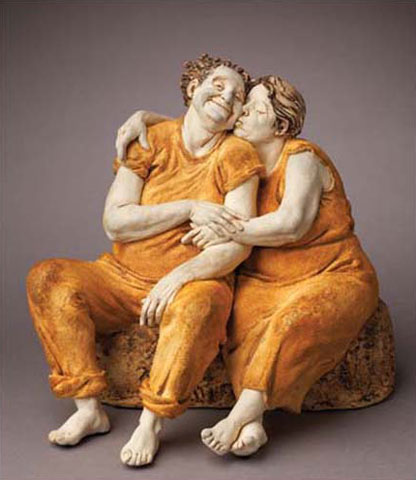 PECK ON THE CHEEK
11″ high – $2000
This has a portion of the Shakespearean sonnet on the back from "My mistress' eyes are nothing like the sun": "My mistress when she walks tread on the ground, and yet, by heaven, I think my love as rare as any she belied by false compare."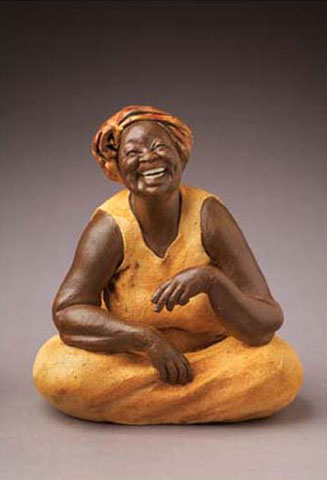 LAUGHER WITH TURBAN
6″ tall – $400- sold but can be commissioned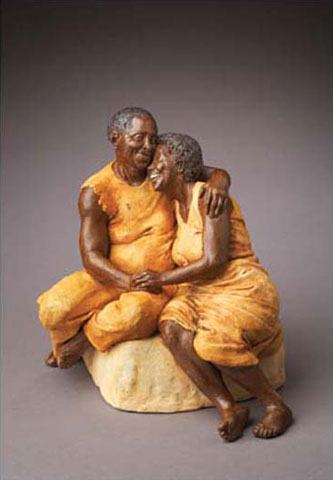 I DREAM A WORLD
11″ high – $2000 and $2300
I DREAM A WORLD has a portion of the poem by Langston Hughes on the back.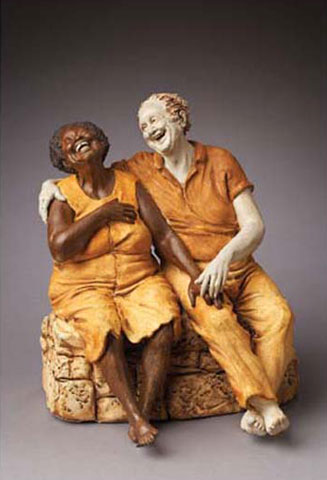 AGNES AND BOB
11″ high – $2000 and $2300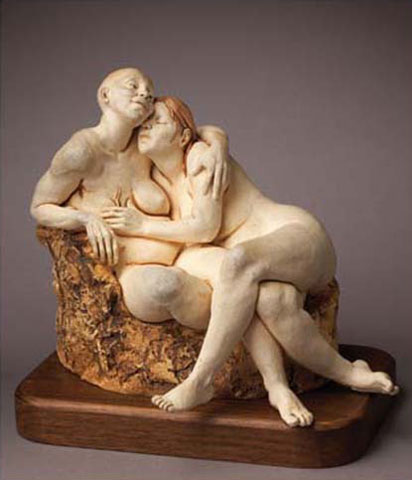 MASTECTOMY
about 8″ tall- $2000
This is the 7th mastectomy sculpture I've done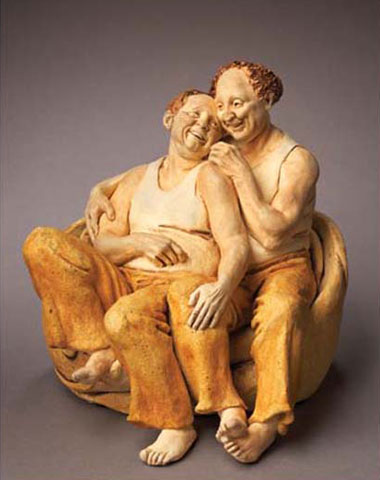 MAX AND HARVEY
about 10″ high – $2000.
This was done in celebration of the gay marriages recently taking place this one is sold but others similar can be commissioned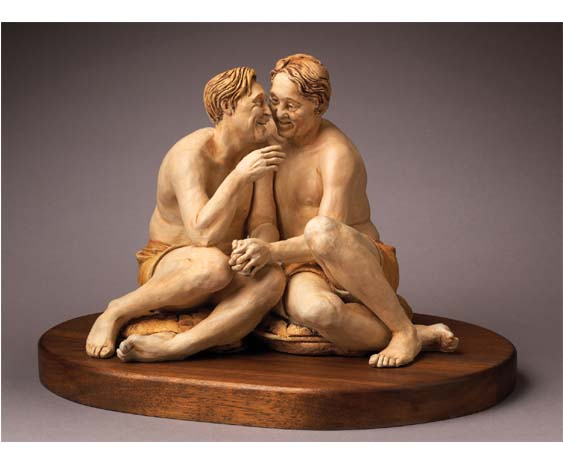 GAY COUPLE
about 11″ high – $2500
The following three photos are some of my favorite pieces from the past.
The've all been sold, but similar pieces could be commissioned.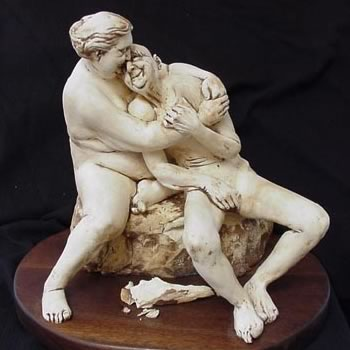 Inward Skies
about 12″ tall – sold – $1800.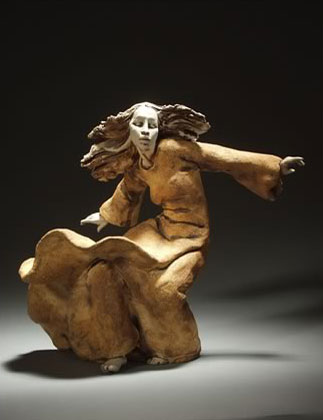 Dancers
$700 each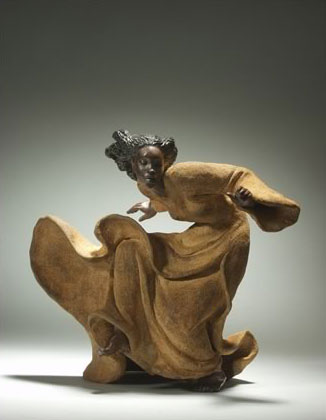 Dancers
$700 each
Below are 2 previous sculptures of mastectomies that I've done. While meeting the public at fairs, I've spoken with many women who have undergone this operation and discovered different attitudes from each individual woman regarding its impact on their lives. I've tried to express these attitudes in different sculptures.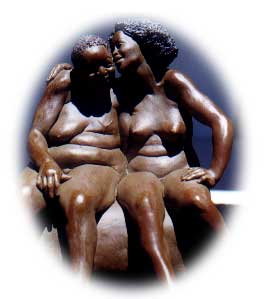 "Mastectomy"
10″ high – $1600.
Sold. Will take orders Can be in white or dark stoneware.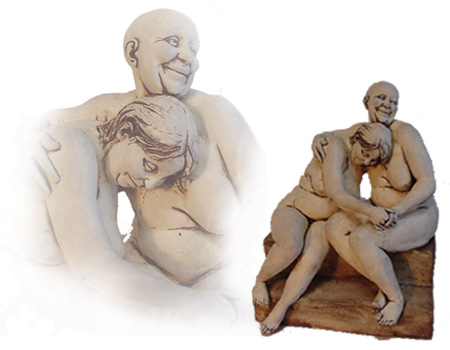 "White Mastectomy"
This piece was commissioned by an oncologist for his hospital. It's about 12″ high. I've done about 6 sculptures of mastectomies now and after the first two, because I had spoken with so many cancer survivors who commented on the first pieces, without my planning it the one who had lost the breast became the stronger one in the sculpture. This piece sold for $1800.
Not a mastectomy but a tribute to the love experienced between two people healing from cancer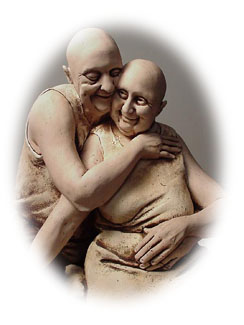 "Bald Couple"
Porcelain and Stoneware 10″ tall
$1800.